NOW OFFERING TURN-KEY
CAMP LOTS!!!!
Dreaming of owning your own River Ranch camp lot but can't afford the full camp set-up……..clearing, well, fill, facilities?  We are now offering full, turn-key camp set-ups and we will add this into our owner-financing package.  Pick your lot and our team will get your camp lot set-up and ready for you!  Wait no longer.  Ask for details!
Take a Tour!
Want to see the lot first hand? We can arrange to give you a tour to your camp lot and recommendations for what it will take to provide you with a turn-key set-up!
Page [tcb_pagination_current_page] of [tcb_pagination_total_pages]
---
Buy River Ranch Customer Testimonials - What our customers Say!
Very good and quick responses
AMAZING EXPERIENCE. Purchasing a property from Buy River Ranch Lots has been a great, efficient and very simple process. Jaime was extremely prompt, polite, professional and EXTREMELY helpful. I will be reccomended their services to any interested parties.
This was the easiest transaction ever! So polite on the phone and replied quickly to every email!
It was a pleasure to work with Jamie is the process of purchasing an Access Deed for River Ranch. She made the process quick and seamless! Thank you Jamie!
I had been searching for an appropriate reasonably priced off grid property for over two months with numerous land acquisition companies. The answer I kept receiving if any at all was we do not have a property that fits your requirements, However, in the event we come across one we will contact you. Which meant I would never hear from them again which was extremely frustrating and stressful given the amount of time I spent searching. I decided to make one final contact before completely giving up. Assuming I would receive the same answer I had received from numerous other agencies. I was somewhat less than polite, Nevertheless I advised what I was searching for. Instead of receiving a response they will be in touch with me, I was told they will do everything possible to find me the property I desire and contacted me the same day with an offer to purchase that property at a more than reasonable price. I received photos and information the same day and by the following day I was able to place a down payment and information for financing in spite of my current credit history as well. There is not one time I forwarded a question that I did not receive a response within one hour. I could continue on about the outstanding assistance and commitment provided to me which I never received in my 73 years purchasing other properties. I have never provided such an overwhelming recommendation as I am compelled to provide now. After months of searching, struggle and stress within one day I received the property I was searching for and financing. I intend to enjoy the rest of my life living on the property of my dreams.
The fastest, smoothest transaction ever. Not even 24 hours, deed in hand. I couldn't have asked for anything better.
Our experience was Awesome from the very first initial inquiring phone call to the end of purchase. Jamie is very knowledgeable regarding all the aspects of the business, from the properties to the financing and everything inbetween. And Corey is Great TOO!! He knows every inch of the Ranch. He was able to answer all of our questions and MORE inregards to properties, wet and dry areas, land clearing, wells, septic,camper set ups, you name it, he's the man!! We were very surprised how quickly they got everything done for us from the inquiring phone call, to the showing, and then the signed, sealed and delivered. It was all in just a matter of a few days! Jamie is prompt and on the ball. We can't say enough how impressed we were with how efficient she handled the whole process. If your looking for River Ranch Property go with them they are the BEST!!!
All in all everything went well gave us what we asked for right away no waiting around for any info very plesent to deal with! Would definitely recommend
It was a pleasure working with Jamie on this it was so fast and easy she exceeded my expectations thank you
I was impressed with how fast and smooth the transaction happens. Jayme and Corey were awesome to work with and Corey is going to be a long term friend on site in River Ranch POA. Thank you both for all of your great service. Wes and Brandy Fisher
The entire experience was awesome. Very streamlined and each step was well explained by Jamie. This was quick and easy. I have already referred a friend and I was referred by my cousin. Thank you!
They made the experience fast an easy , Jamie was always there to answer any question or concerns we may have had . and thank you Cory for being uber driver to look at property . highly recommend anyone looking to purchase property to contact them , thanks Mike, Charity
Jamie was amazing the process was extremely easy and fast! Jamie was very friendly and answered all of my calls and questions! Thanks Jamie
This company is amazing and very well organized! I have nothing but great things to say. Jamie has went above and beyond during my process of buying the lot in River Ranch. I have worked with her in the past and she has been wonderful!! Everything was done in a timely manner, easy and hassle free. I give them 5 stars!! They are the best around!
Communication was great. Super helpful. Answered all of my numerous questions right away. Whole process took less than 24 hours. Extremely happy will be sending people their way. Thanks again! Hope to talk with you soon for a camp lot.
This was an easy and pleasant buying experience. Answered all my questions quickly. Very easy and fast transaction.
Very nice experience!!! fast and easy !!
Jamie explained the process, clear and simple purchase. Thank you again!
Just purchased an access lot, signed all of the documents, and received the recorded deed, all while sitting in a waiting room using my iPad. This was BY FAR the easiest transaction I have ever been involved with. I highly recommend going business with this company.
Jamie is very professional, she handled the whole experience from start to finish in a professional way. Her communication was on point, she communicated through text and email and she was prompt. The experience took a week as she told communicated. I highly recommend purchasing through them.
It was a great pleasure purchasing our property through you. You made it so easy.
I would recomend you to others. Thank you so much
super pleasant and fast, definitely would recommend. Thank you
She was fast and made it easy to do.
Great experience! Seamless transition from access deed to camp lot. Speedy service and very informative.
From the moment she answered the phone, Jamie Mayeaux was very professional and seemed very excited to deal with me. Jamie was very knowledgeable and answered all my questions without hesitation or stumble. She laid out a course of action and completed even sooner than anticipated. I highly recommend her and her services and will refer any future potential customers I know of to her. Thank you Jamie Mayeaux!
Super fast! Process took less than ten minutes and I had my recorded deed in less than 24 hours
---
River Ranch Acres is one of the last private recreational areas left in Florida and the premier association for those wishing to enjoy outdoor activities such as primitive camping, hunting, fishing, ATV riding, and 4×4.
This area is comprised of over 70 square miles of untouched Florida land in the heart of Central Florida. Convenient to Tampa, Orlando, Lakeland and all of Florida, the property is located off of State Road 60 and County Road 630.
Buying a property in the River Ranch Acres allows the property owners to gain access to the 44,000+ acres of land.
The area is managed by the River Ranch Property Owner's Association (RRPOA) and in order to access the property and to take advantage of the membership, you will need to join the RRPOA. The annual dues are $175 and cover 1 person or a married couple.
The size of the lot you purchase dictates how many people can join the RRPOA.  If you purchase a .31 acre lot, 1 person or a 1 married couple may join the RRPOA; if your purchase a .63 acre lot, then 2 individuals or 2 married couples may join the RRPOA; if you purchase a 1.25-acre lot, then you can have 4 individuals or 4 married couples join the RRPOA and a 2.5-acre lot allows 8 people or 8 married couples to joint the RRPOA.
Question: If I buy an Access Lot (Hunting Lot) does that mean I can't camp at River Ranch?
If you own an access lot, you may camp.  The RRPOA has established a temp camp area, it's just off the Main Grade just south of the PlayPen. Here's a map that shows the location.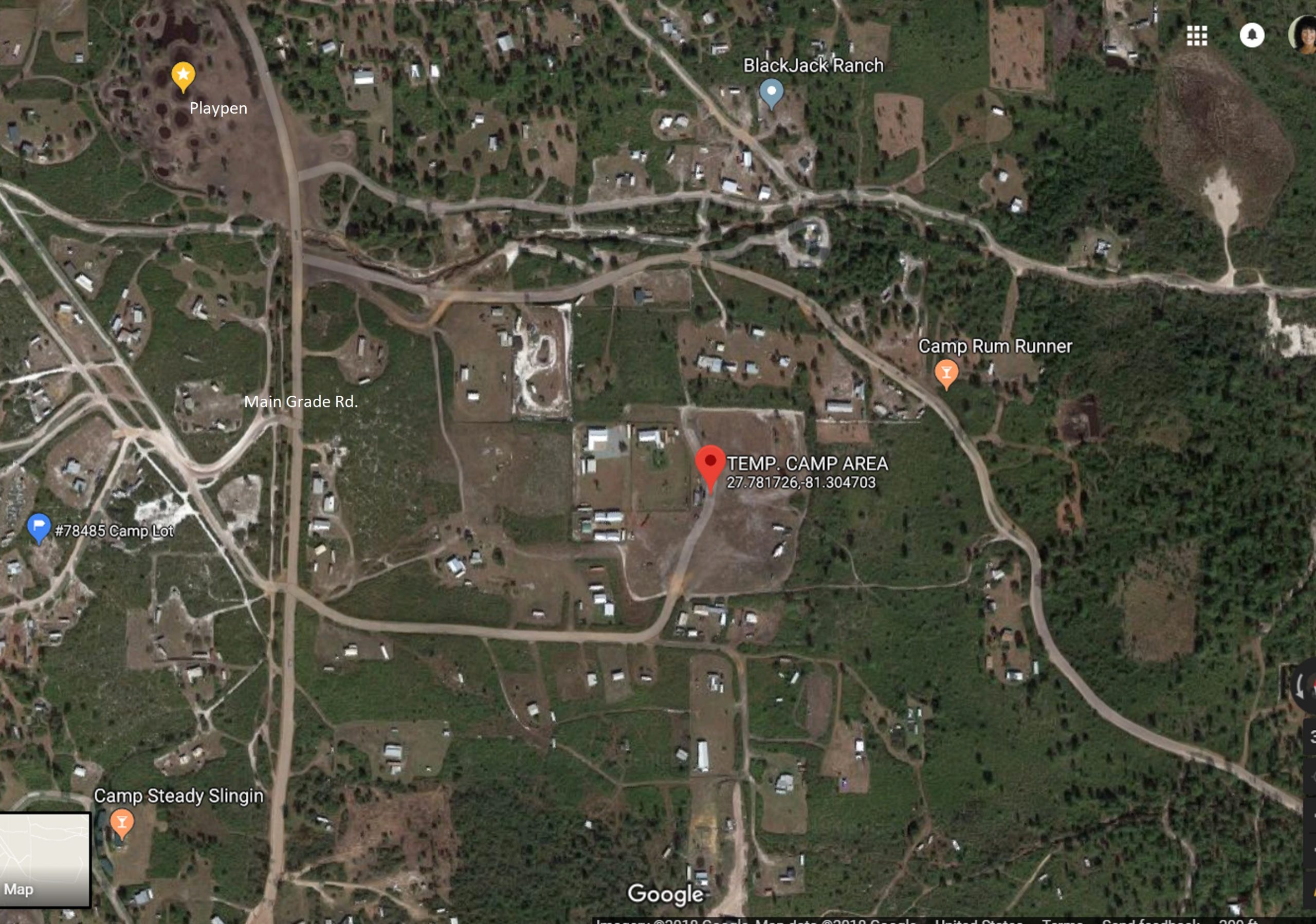 We have River Ranch Properties Available, Click the link below
Check out these listings in RRPOA
RIVER RANCH TV
I have created a bunch of videos that give you a peek inside River Ranch.  If you have questions, please let us know and we will get you the answers you need to move forward.
Video Library:
What is River Ranch?
Can I put a well on my River Ranch Camp Lot?
How does Owner Financing Work?
Is buying land in RRPOA a Pain in the A$$??
How can I find the property using the GPS coordinates you provide on this website?
How does RRPOA handle guest passes?
Are Dirt Bikes Allowed by RRPOA?
Can I camp on my access lot?
How long does it take to get access to RRPOA?
all these and more!
Please click below to gain access to the videos.
RIVER RANCH TV
What is River Ranch
How does Owner Financing Work?
Is buying land in RRPOA a Pain in the A$$??
How can I find the property using the GPS coordinates you provide on this website?
How does RRPOA handle guest passes?
Are Dirt Bikes Allowed by RRPOA?
Can I camp on my access lot?
How long does it take to get access to RRPOA?
Can I put a well on my River Ranch Camp Lot?

Click here to read the River Ranch Property Owners Association Rules and Regulations
How long does it take to get access to River Ranch?
One of the questions that I get asked frequently is how long does it take to get access to River Ranch?
If you purchase the property from our website, or if you call our office, you will see that we are by far the fastest way to get into River Ranch. There are clearly two ways that you can purchase your property; you can purchase on terms or pay in full.
When you purchase on terms, we typically complete the paperwork within a matter of minutes to a few hours and from there the documents will be emailed to you to have signed and notarized.  Once notarized,  just scan and email the documents back to us and we will record your Agreement for Deed with Polk County.  When that is recorded, usually within 1-2 business days, we'll email you the recorded copy to print out and take with you to the River Ranch office and set up your POA membership.  We'll set you up for automatic monthly payments and you may prepay anytime.  You then have full use of your camp lot and once paid in full we will issue your deed.
The River Ranch POA charges you $175 per person per year (couples are counted as one ownership unit).
If you're paying in full, then we will need to collect the names you want on the deed. Once that is collected, we draft the deed and send it to you for approval. Once you approve it, we will have the deed notarized and recorded promptly. We pay extra to record our deeds electronically with the county so you can get it recorded quicker, thus getting you the documents you need to provide the RRPOA faster.
After the deed is notarized, we will email you the recorded deed which is your official copy. Just print out the recorded deed and take it to the RRPOA Office and they will start your River Ranch membership.